Hi, and welcome to my production web site!
As a freelance Chicago based cameraman, Director of Photography, working in the areas of commercial, corporate, music video, documentary and industrial production, I've been assisting producers of Film and Digital Motion Imaging for over 25 years.
I spend a lot of time looking for ways to work smarter, to deliver more outstanding images and to excel in current image-making technology. On location, in the studio, on-the-water, underwater or in the air, I'm committed to principles of quality & integrity combined with the advancement of production values on each and every project that I work on!
As a Chicago cameraman who travels the world, I work to become an integral part of your production team. You and your project are important to me...never approached as just another project or job number! While I strive for quality and getting the job done, I take great pleasure in helping my clients to occasionally earn prestigious awards for outstanding achievements in production. Whether working in Film, Digital Video or H.D., the value of my training and disciplines remain the same:
| | |
| --- | --- |
| Sensitive Lighting: painting, shaping, and accentuating faces, products, and locations with light. Never...indiscriminately aiming a light at a face, product, or location! | |
| | Precise Composition: approaching each and every setup through the eye and art of balanced elements within the frame. Never...just pointing a camera! |
| Careful use of lensing & camera technique: effectively complementing the story, idea or theme through photography. Never...haphazardly choosing a lens or moving a camera! | |
I believe strongly in delivering quality and putting the right combination of equipment in the hands of experienced professionals.
My goal is to maximize quality and production value...always!
Thank-you for seeking out my web site. I hope you benefit from your viewing of this site!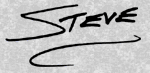 Steve Herrlin
''Let another praise you, and not your own mouth;
someone else, and not your own lips.''
Proverbs 27:13 NIV
''What amazes me about Steve is that he never runs out of solutions to every kind of production problem. He is a creative problem solver ... has an even temperament even on the most difficult shoots. Steve is far more than a cameraman: he is a master of light and lens! With Steve, every shoot is above and beyond my expectations.''
Reba Meshulam - Suite 100 Video