DV Magazine
Steve was recently interviewed regarding the new JVC GY-LS 300 4K Cinema Camera. Read full article.
Telly Award Winners
Corporate Image / "HD Cinematography"
"Best Cinematography" Page Foundry
Honors & Awards
2015 Telly Award - Peoples Award for best Non-Broadcast production
2015 Telly Award - "Best Cinematography" Page Foundry
2012 Telly Award - Corporate Image "HD Cinematography"
2010 EMPixx Award - "HD Cinematography"
2009 Telly Award - "Cinematography"
2008 Communicator Award - "Cinematography"
2002 Telly Award - "Cinematography / 2nd camera"
2001 Telly Award - "Cinematography"
2000 Videographer Awards - "Award of Excellence"
14th Annual Communicator Award Winner: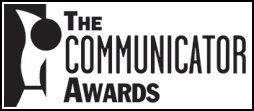 Steven Herrlin has received the Gold Communicator Award given in the Category of Videography/Cinematography for photography of the Vtech spot titled "Whiz Kid".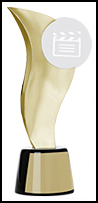 The Communicator Awards are judged and overseen by the International Academy of the Visual Arts (IAVA), a 200+ member organization of leading professionals from various disciplines of the visual arts dedicated to embracing progress and the evolving nature of traditional and interactive media. Current IAVA membership represents a "Who's Who" of acclaimed media, advertising, and marketing firms including: Condè Nast, Coach, Disney, The Ellen Degeneres Show, Estee Lauder, Fry Hammond Barr, HBO, Monster.com, MTV, Polo Ralph Lauren, Sotheby's Institute of Art, Victoria's Secret, Wired, Yahoo!, and many others. (Press Release - PDF)
Oppenheimer Film:
A moving portrait of Nuclear Physicist Robert Oppenheimer on Super 16 film, shot under the direction of artist, creator and director Iñigo Manglano-Ovalle. This project brings, to the viewer, a fresh perspective on Oppenheimer.
Courtesy of Iñigo Manglano-Ovalle and
Art 21
Sky's the limit: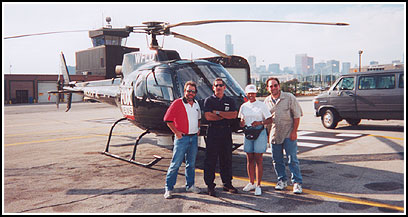 Chicago's Miegs Field, Fox 32 (Astar) - Director of Photography-Steven Herrlin; Fox 32 Pilot-Steve Kamenir; Prod.Coor.-Margaret Thomas; Producer/Director-John Lawrence
Imagine riding up 103 stories in the Sears Tower Skydeck elevator, ears popping and gravity-challenged butterflies of excitement, fluttering in your stomach as you climb to the top of the city's tallest building. Now, envision what that ascent would be like if there were a bigscreen TV-sized hole in the elevator wall that gave you an outside, bird's -view of the city as you traveled upward.
Welcome to the era of virtual reality elevator rides, when getting from point A to B is more fun than the destination itself. (Case in point: the fully-animated and ultra-fun welcome presentation featured in the elevator at Chicago's DisneyQuest facility.) Beginning this winter, visitors to the Sears Tower Skydeck will get more for their money than a panoramic view of the Windy City atop the 103rd floor. They'll also get the vertical ride of their life, thanks to the installation of a 52-inch plasma screen in each of the two Skydeck express cab elevators.
Each trip, up or down, features 70 seconds of mind-blowing aerial video footage shot from a helicopter right outside the Sears Tower, creating the simulated effect that you're looking out a window as the elevator moves. The fully narrated ride, presented in digital quality surround sound, will also include plenty of special effects and a few surprises-including a highly realistic scene with NASA stock footage suggesting that the elevator has rocketed right out of the building into outer space. After you wave hello to the Space Shuttle off in the distance, you "return" back through the clouds and come to rest safely back on the Skydeck's 103rd floor.
''It's going to be an exciting, humorous, wonderful ride filled with surprises,'' says John Lawrence, Creative Director of Image Work Communications, the Woodland Hills, Calif.-based production company that created and edited the images. ''There's nothing else like this anywhere in the world that allows you to watch realistic video footage as you travel in an elevator. It's really the first presentation of its kind.''
The video images, shot by Chicago-based freelance aerial photographer Steven A. Herrlin, were achieved via a special gyrostabilized camera system with a lens mounted off of the helicopter's nose. Herrlin's painstaking efforts produced smooth, jitterfreee footage-shot from as high a 6,500 feet up-that heightens the viewer's sense of realism. The elevator presentation even alternates for the appropriate time of day: daytime Skydeck visitors will see video of a sunlit Chicago cityscape, while nighttime riders will enjoy footage of the same panoramic area illuminated by the evening lights of the Windy City. The images are also shown in reverse order for the ride down, but with a few fresh twists thrown in, including a fantasy sequence that takes you past a moving CTA train and into the building's sub-basement, where a maintenance crew marvels at your sudden appearance.
Concurrent, with the elevator presentation's launch, expected in late February 2000, will be the unveiling of 24 different interactive flat plasma screen kiosks at varied locations across the Skydeck floor. Visitors can use the screens to locate famous Chicago landmarks and learn more information about the city. There will also be a ''Knee High Chicago for Kids'' interactive exhibit and several other surprises, all created and installed by Dellmont Leisure, an attraction company hired by Trizec Han, the Sears Tower's office property management firm, to give the Skydeck a high-tech facelift of sorts.
If you're worried about nausea or high blood pressure during your brief elevator jaunt, relax. Herrlin promises that the journey up or down won't be anything like an amusement park ride that promotes motion sickness or fear of heights. ''It's going to be a pleasant, entertaining ride that will give visitors a new perspective of both the Sears Tower and the city.''
Article: Courtesy of Erik J. Martin and The Chicago Sun-Times